Dear Visitor,
Greetings Edunators! I trust you've all gotten your new year off to a great start. I'm already shocked at how fast the semester is rolling.
Today, I'd like to discuss one of the most polarizing subjects in education: Homework. I'll begin by sharing with you some reasons why i DON'T much care for it myself, then I'll share some ideas on how we can improve it for those who find it benefecial to their students.
As always, if you have any questions, comments, suggestions for future newsletters or just want to continue the conversation, feel free to contact me in any of the ways listed below.
Until next time, stay focused on learning,
Mark Clements
Twitter.com/Edunators
Facebook.com/Edunators
---
People love to talk about "what the research" says about homework. And there's mountains of it out there that I encourage you to look through if you're interested, though little of it is positive. Today, I'm not going to discuss what the research says, just my own experiences. Call it "action research" if you will. I've been in the classroom for 10 years…and haven't given a traditional homework assignment in at least six. Here's why: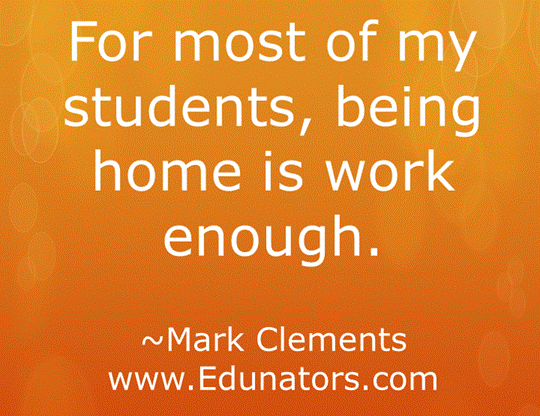 1. The only thing homework shows me is which students have support at home. While attending AMLE 2014 in Nashville, I attended Rick Wormeli's session on homework. He cited a book by Alfie Kohn, who quoted within it a woman named Deborah Meier as saying "If we sat around and deliberately tried to come up with a way to further enlarge the achievement gap, we might just invent homework." We imagine "support at home" to be mom sitting down at the kitchen table to help junior but for many the "support" they're lacking is really just "opportunity". For example, if my At-Risk students are working jobs after school to provide for the family, taking care of siblings, hungry, or living in an unsafe environment, homework is the least of their concerns. For most of my students, being home is work enough. Homework is the least of their priorities. Remember Maslow's hierarchy of needs? Homework wasn't on the list.
2. I've always felt like it does more harm than good to relationships. A few parents seem upset with me every year for not assigning more homework. Far more appreciate not having to go through the nightly battle. Others have neither opinion, because they're not around enough nor inclined to care. Furthermore, I go out of my way to ensure that my students like me, or at least think I'm "Cool….for a teacher." The last thing I want to do is give them a reason not to. Obviously I want them to appreciate that I make them work hard and grow as a person, but I think I can do that in a more efficient, less destructive way than assigning nightly homework that may not improve learning at all.
3. I don't want to prepare it, or grade it. I just don't see the amount of additional learning my students get with homework justifying the additional time it takes me to create it. To make it meaningful and relevant takes time, and that's just something few teachers have much of. I work to make sure my regular classroom time is spent on quality assignments and I work even harder to try and provide feedback on those assignments. That's not easy. So while I respect that "extending the school day" should theoretically extend student learning, that's only true if teachers are willing to further extend themselves to ensure that homework is of high enough quality AND if they're committed to providing feedback on these additional assignments. I'm exhausted from ringing out the awesome sponge from 7:30 – 4:30….extending the day is something I work to avoid. Work smarter, not harder Edunators. You can't be willing to extend their school day unless you're willing to extend your own.
4. I never really know who did the assignment. Even if the assignments are completed, I never really know by whom. In my first three years of teaching I can recall at least four instances in which I know parents or older siblings had completed the assignments instead of my student. And this doesn't consider the countless times I'm sure students copied assignments from classmates before class.
5. Homework is rarely completed at home, anyway. I understand the basic logic of extending the school day, but particularly with middle school or high school students, homework is rarely completed at home. Often, it's completed in other classes once their work is finished (or instead of completing that work) and it's also frequently completed in "study halls". So…let me get this straight: We're creating classes in our master schedules specifically so that students can complete work that we assigned to be completed outside of school so as to extend classroom learning? Why not eliminate the "study hall" from our schedule, add that time to the regular classes and "extend learning" that way?
Click Here to read #6-10......
---
At the Association for Middle Level Education's (AMLE) annual conference, my favorite of the year BY FAR, I always try and attend at least a few sessions that I think will challenge my thinking about a topic I've already made my mind up on. At last year's conference, one of the All-Stars of education, Rick Wormeli, was presenting a session about improving homework. I'm a huge fan of Rick's work and would highly encourage you to check out his article on this same topic via middleweb.com. Much of what I'm suggesting here is derived directly from Rick's presentation, combined with my own experiences, so I want to give credit where it's due.
Normally, I'm not a huge fan of giving homework at all (Check out 10 Reasons Why I Don't Give Homework) but I've recently softened my stance on it a bit so I wanted to offer some ideas for making it better.
1. Make it meaningful. Homework has to be life altering, fun to complete, challenging and humorous. What!? You can't do that!? Ok, fine. Just make sure it's relevant to what you're studying and hopefully, relevant to them as well. No random busy work.
2. Feed the feedback monster. If students show up with completed homework in hand and it's never collected or used in class, it won't take long for them to stop doing it all together. Even if they turn it in and never see it again, that's not much better. To make the homework worthwhile, prepare to provide feedback on what students did well and what they still need to improve on. (Notice I didn't say "grade"? That's because feedback > grading.)
3. Practice doesn't make perfect. Practice makes permanent. This is one of Wormeli's favorite sayings. I think he has it on a T-shirt or coffee mug or something. Make sure students are proficient in whatever it is they're practicing. Don't create bad habits! Perhaps homework plays a role if it's reinforcing work students are proficient in. Or perhaps if you're using homework during the "input" phase of learning, for example in a flipped classroom model, homework has a role. But what about that window in between initial instruction and proficiency? I'd be really careful about assigning students homework as practice.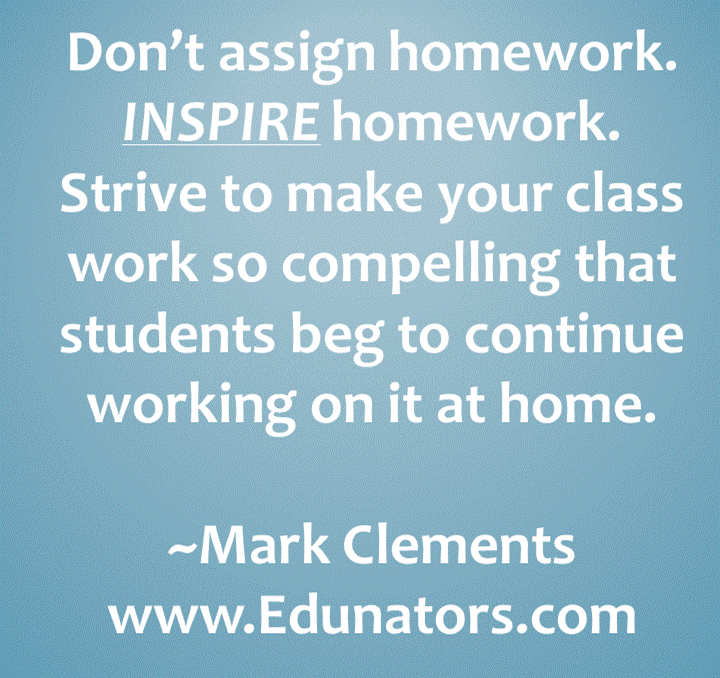 4. Consider the flipped classroom model. Flipping a classroom is about more than homework and videos. The jist of it is, change the work students do at home to being the basic "input phase" of their learning and use school for practice, project based learning, or other tasks where the teacher can facilitate learning and provide feedback. When you "flip" you're really flipping the responsibility of learning off of the teacher and onto the student. But yes, having students watch videos, read, or listen to podcasts of class material at home so they're prepared to work the next day is great. Just make sure they actually need that material the next day, or they'll stop prepping ahead of time.
5. Keep them short. Shorter assignments are more likely to get completed by students. It's daunting to know that when you start your homework, you'll have three hours of work in front of you…so daunting you may never start. However, knowing that the assignment will take you ten minutes makes you more likely to say "Let's knock this out during the next commercial break." Furthermore, shorter assignments are more likely to be graded or have feedback provided. Teachers don't' want to sit down with three hours worth of homework either, so if I know I can provide feedback for the kids in a reasonable amount of time, that makes the assignment more useful to both of us.
---
More Edunating Stuff….
---
Interested in Helping Your Faculty Become Edunators?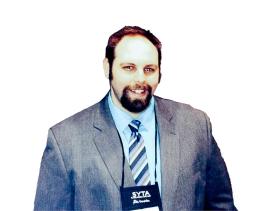 Mark is available for professional development in half-day or full day workshops in which he entertains and inspires as he shows teachers they have within them all they need to "Become the Edunator" and gurantee that in their classroom, "Not learning is NOT an option!"
Mark's "Focus on Learning" workshops are designed to model differentiation, formative assessment, reflection and standards referenced grading - virtually guranteeing that everybody can walk away with multiple new strategies by focusing your professional development on actual LEARNING! Teachers will learn the strategies because they'll participate in them from start to finish from the perspective of the student. From initial instruction, through assessment, re-teaching and enrichment teachers will experience the power of choice, reflection and clearly defined objectives in the learning process.
If all of that sounds like a bit too much for you and your staff, "traditional" presentations are available as well in a mostly lecture based or small-group format. Mark will work with you to determine the best course of action for your faculty's professional development.
If you would like to learn more about how Mark can help your faculty "put it all together" and use formative assessment, differentiated instruction, reflection and feedback to reteach, enrich and empower students - email him at markclements@edunators.com or send him a message on Twitter or Facebook. References available upon request.