Dear Visitor,
Hope this letter finds you well and that many of you have been able to rest up over a holiday break. As the calendar year draws to a close, like many of you I find myself reflecting on the year that was and making grand plans for the future.
Last year I was watching an episode of the Today show when I caught an interview with a gentlemen named Mike Ashcraft. He was promoting his book My One Word. In the book, Ashcraft promotes the idea that New Year's Resolutions are often unsuccessfull because we have a tendency to bite off more than we can chew. By choosing one word that encompasses a change we want to make in the upcoming year, we're far more likely to not only remember the resolution, but actually make decisions accordingly and perhaps change ourselves for the better.
This year, I'll be choosing two, one for my personal life and one for my classroom. My classroom word will be "Inspire". Like many other teachers, I have a tendency of falling down the data/testing rabbit hole and focusing on things that aren't as impactful in the long run as helping students to find themselves and move them to be better people and students. It's tough sledding, but I'm committed to the idea of making the important things, more important.
As a part of this mission, I'm going to begin next semester by showing my students a video clip of the Today show segment and having them choose their own "One Word" and sharing with them my other, personal resolution ("write"). At the very least it will help me continue to get to know my students further, and might help them to learn to improve themselves.
Hopefully you're able to take some time to set some goals as many of you prepare for the second semester of the school year. It certainly is normal to start feeling reflective this time of year so might I suggest you spend some time looking back before you begin looking forward.
Reflection is an important part of the learning process, in fact it's essential and Step 5 in "Becoming the Edunator". Below you will find links to four articles outlining what I consider essential elements in using reflection to improve student learning. Please consider clicking on one and continuing your learning today.
As always, thanks for reading and please let me know if there is anything more I can do for you or your students. Happy New Year and be safe as you celebrate!
Best regards,
Mark Clements
"The Edunator"
---
If I touch a hot stove and burn my hand, I immediately learn that touching a hot stove results in a burned hand. My brain makes the connection almost simultaneously. There's little need for reflection because the "hot stove=burn" connection is one that my mind makes almost immediately.
Similarly, suppose I'm driving in bad weather and going WAY TOO FAST for the conditions. If my car spins out and I find myself stuck in a ditch, I've learned a lesson about driving in bad weather. Again, the connection is almost instantaneous.
Academic learning however is seldom that obvious.
Let's pretend I'm a fourth grade student, distracted by everything from cafeteria food to the playground outside my classroom window. If I fail a math test, am I immediately able to tell you why? Most kids aren't self-aware enough or mature enough to tell you why they failed at something (or in some cases, why they got in trouble). The younger the student, the more difficult this is.
More than likely, since I'm not sure exactly WHY I failed a test, the only connection my brain makes is "Math = F". Since most kids really do want to be successful, students also equate "F=Failure" and "Failure=Bad". They don't understand that failure is a part of the learning process, largely because we as teachers don't allow students to re-do work and learn from mistakes. As a result, they come to hate the subject or the teacher, never really knowing why other than "I suck at Math."
Read More
---
A lot of college level teacher training programs talk about the importance of developing a "reflective practitioner" but what exactly does this mean for the classroom teacher? If you haven't yet accepted responsibility for student learning than it doesn't mean much at all. You'll have some success as a teacher and some failures which you'll most certainly blame on any number of factors. If however you believe that all students can learn at a high level and that your performance as a teacher has a direct impact on student learning, than reflection should be an integral part of what you do.
Below you will find a list of 30 Questions Teachers should be regularly asking themselves to ensure they're classroom is as focused on learning as they would like it to be. Feel free to beg, borrow, steal and share however you see fit.
Modeling Reflection – Questions to Ask With Students
1.Was this activity successful….why or why not?
2.If we do this again, what can I do differently to help you learn more?
3.Did this activity help you learn more than others we've done? Why?
Classroom Culture – Questions to Ask About Your Rules & Relationships
4.Are the relationships that I have with my students helping or hindering their ability to learn?
5.Could the problems I have in my classroom be solved by pre-teaching my expectations or developing rules/procedures to deal with these issues?
6.Was my demeanor and attitude towards my class today effective for student learning?
7.Am I excited to go to work today?
8.Are my students excited to come to my class today? (How much does #6 impact #7?)
9.What choices have I given my students lately?
10.Can I explain at least SOMETHING about each of my student's personal lives?
Read More
---
Trying to get students to reflect upon their learning isn't nearly as difficult as it sounds. Virtually any mechanism that a teacher uses can be used for reflection as well. For example, consider a quick write activity followed by a partner share out.
At the end of any day's lesson, pose a question to the class and ask them to answer it individually. Start off with something generic like "Explain how you felt about today's class." Then, have students turn to a partner and explain what they liked about it. After a minute or so, share out as a whole class about what the class liked about class that day. Then, repeat this process by asking students to write or share what they did not like about the day's activity. Again, share out as a whole class. It's important that the teacher not get defensive but rather validates the feelings of every student and models appropriate reflection.
Read More
---
I've already spoken at length about the importance of reflection in education and how we as teachers can use reflection to help students learn. But what are some specific questions or activities we could be doing to help students reflect?
Below you will find a list of such questions, grouped accordingly to why you might use them in your classroom. Obviously many of these may need to be reworded to decrease or increase the complexity depending on what age level you're using them with, but hopefully they give you some ideas you can utilize in with your own students. As always, if you have any thoughts, questions or comments about this work, feel free to hit me up on Facebook, Twitter, or via Email. Enjoy!
Relationships and Collaboration
1.What are some ways you could share this learning with your parents or family?
2.Could you say something positive about each of your classmates?
3.What could you do today to help you develop better relationships with your peers?
4.Why is it important for students in a school to have positive relationships with each other?
5.What are some ways in which the adults in the school could help you improve the relationships you have with your classmates?
6.What, if anything, have you done or said lately that may have been considered bullying towards other students?
7.What are some things your classmates do that help you learn?
8.What are some things your classmates do that prevent you from learning?
9.What are some things you do in the classroom that you worry might prevent others from learning?
10.What are some things you do in the classroom that you believe can help other people learn?
Read More
---
Interested in Helping Your Faculty Become Edunators?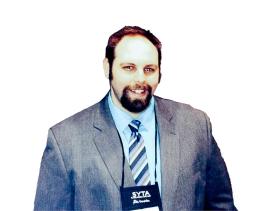 Mark is available for professional development in half-day or full day workshops in which he entertains and inspires as he shows teachers they have within them all they need to "Become the Edunator" and gurantee that in their classroom, "Not learning is NOT an option!"
Mark's "Focus on Learning" workshops are designed to model differentiation, formative assessment, reflection and standards referenced grading - virtually guranteeing that everybody can walk away with multiple new strategies by focusing your professional development on actual LEARNING! Teachers will learn the strategies because they'll participate in them from start to finish from the perspective of the student. From initial instruction, through assessment, re-teaching and enrichment teachers will experience the power of choice, reflection and clearly defined objectives in the learning process.
If all of that sounds like a bit too much for you and your staff, "traditional" presentations are available as well in a mostly lecture based or small-group format. Mark will work with you to determine the best course of action for your faculty's professional development.
If you would like to learn more about how Mark can help your faculty "put it all together" and use formative assessment, differentiated instruction, reflection and feedback to reteach, enrich and empower students - email him at markclements@edunators.com or send him a message on Twitter or Facebook. References available upon request.