Dear Visitor,
Hope this note finds you and your family well. I know for many of you it's nearing Winter Break and this last week can be challenging. As we get closer to these extended breaks, holidays, etc students often become more energized and excitable. They (like us) often lack some of the patience they might typically have. Getting students up and moving can really help, as can doing whatever possible to make student learning more authentic. Today, I'd like to give you some ideas on how to go about both.
Getting Students Up & Moving - "Inside / Outside Circle"

This activity is GREAT for kinesthetic learners or incorporating some brain-based learning strategies into your classroom. Use it as Formative Assessment to see what students know about a new topic or as review of material previously discussed in class. It can take 15-20 minutes the first time you try it, but once students have learned the process, it can be done is as little as 5-10 minutes.
Divide the class into two groups however you like. Then, have one group form a tightly packed "circle" facing away outward from one another. With the other group, form a larger circle going around the outside of the first and facing inward, so that students from the "Outside Circle" and students from the "Inside Circle" are facing each other. Ask students to answer a question, define a term, give an opinion, or anything else you like by saying "Inside circle, please tell your partner about [x]". Then, have students rotate by moving one or both of the circles, such as "Inside circle...move three people to your left". Move either circle left or right, move one or both circles to change up the partners as frequently as you like.
Add in a "sense of adventure" by having something random - such as a rolled dice or flipped coin - determine what happens next. Let a roll of the dice determine which circle moves and how many places, which question is asked or which partner does the answering. Students of all ages appreciate the "gamble" of waiting to see what happens next and it makes for an interesting conversation about probability if you care to incorporate it.
Making Learning More Authentic
As educators, we should be working tirelessly to help make the learning that takes place in our classroom as real world and authentic as possible. So what exactly is "inauthentic" about the learning that takes place in our classrooms?
As Layered Curriculum guru Kathie Nunley points out, in the real world learning is almost ALWAYS initiated by the learner. This ensures that not only is motivation NOT a problem, but the learning is very focused. If I set out to learn more about Differentiated Instruction, I may send out some Tweets, run a Google search and talk to some colleagues about some great books on the subject. Regardless, I know what I'm looking for and I know when I've found it. Too often our students are 'doing' assignments but don't know why. They don't know what it is they're supposed to be learning.
Consider how many students answer questions from a textbook only to have no recollection of what the questions were, much less what the answers were. There's nothing authentic about this activity because the student didn't set out to learn the material – they set out to complete the task asked of them.
To correct this flaw and potentially make classroom learning a little more authentic and purposeful, we need to change the student's mindset from setting out to complete an activity to setting out to learn an objective – and convince them they need to learn it! Simply writing the objective on the board is not nearly sufficient in this regard. So how do we make this shift in our student's mindset?
Start by "unwrapping" the objective with students. Have them start with the standard exactly as it's written in the state curriculum and put it in their own words in the form of an "I can" statement. This turns a complex state objective such as "Students will analyze the causes and effects of the Civil War including the political and economic ramifications" and turns it into a much more manageable "I can tell why the Civil War started and how it changed the world." Not only does this make the objective much more manageable, it also gives students a sense of ownership over the purpose of their work. Plus - as an added bonus – you get to spend some time discussing the meaning of words like "analyze" or "ramifications" and other "Tier 2" words that the Common Core State Standards would like teachers to focus on.
Next, change the conversation while your students are doing class work. Instead of asking "What are you doing?" try "Why are you doing that?" At first they'll look at you like you have three heads and none of them speak English. "Um, because you told me to?" Don't let that slide. Push them, prod them about WHY they're doing the assignment. It's to learn the objective! You want them to answer with "Because I'm trying to learn the causes and effects of the Civil War." That's when you know they're starting to get it. Follow up with "And how does this assignment help you do that?" (By the way, if it doesn't, then why did you assign that? Being focused on learning is as much about the teacher as it is the student!)
As they're working on an objective, make the learning even more authentic by asking "Why do you think we're learning this?" Make the state governing body the bad guy by saying "Guys, I know this is hard, but why do you think we need to learn this? Can you give me some examples of how we use this information in our world? How would your life be different without this?" This adds a sense of relevance to the work students are doing, maybe not enough to make them care but hopefully enough to make them complete the assignment! If this is difficult for you, then imagine how the students feel. That's why we're there – it's our job as educators to explain material to students, and that includes the "why".
Finally, when a student claims to be done with an assignment, ask them "What was the objective?" When they answer with "I can tell why the Civil War started and how it changed the world" look at them blankly and ask "Can you?" If not – then they're not "done" are they? After all, the purpose of the assignment should be to LEARN the objective!
Thinking this way changes a lot of what we do as classroom teachers but it has a profound impact on how students look at class work. It may not be genuinely authentic learning, but it sure does make the work FEEL more important and helps students focus on actually learning the material and not merely jumping through another hoop because a teacher said so.
Putting the "Edge" in "Edunator"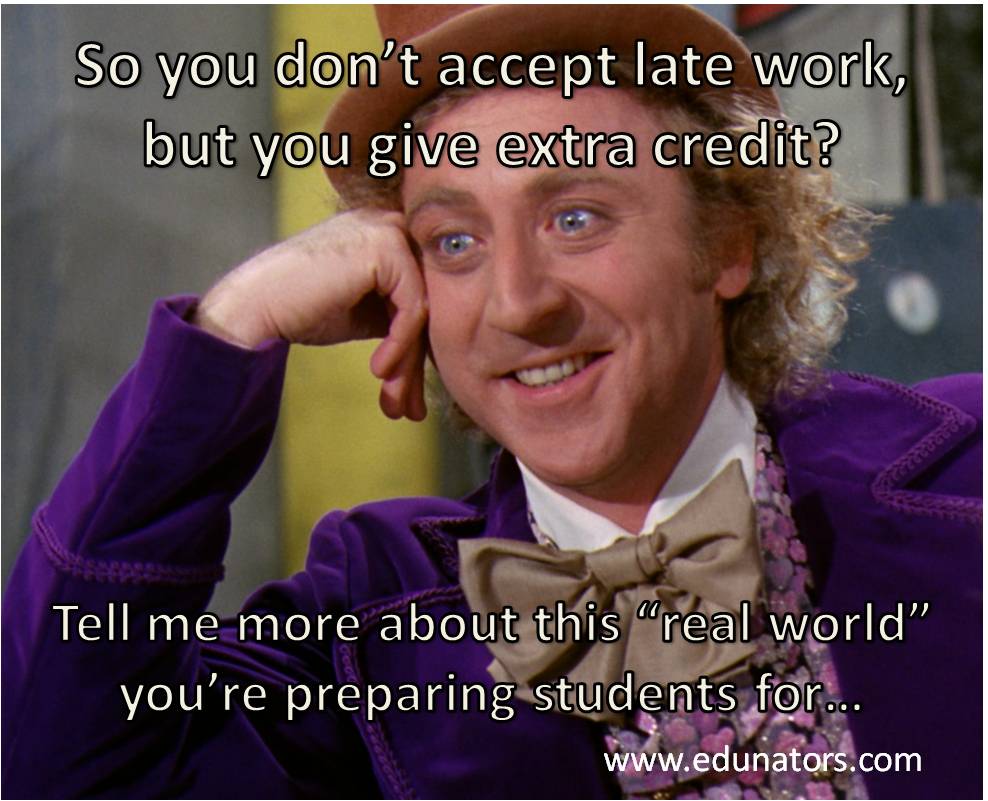 Sometimes as teachers, we just need someone to "tell it like it is". Sensitive, gentle approaches to difficult classroom issues are nice - even necessary for some. For most of us though, upfront honesty coupled with a heavy does of humility and humor is all it takes to make significant changes. Teachers aren't averse to change - they're simply averse to "change for change sake". Convince them that improvement is necessary and they'll become powerful change agents within your organization. For most teachers, this critical step towards "buy-in" is in accepting responsibility and acknowledging that ALL students can learn at a high level and that their actions as a teacher have a direct impact on that learning. While there are certainly delicate ways of putting that, sometimes teachers appreciate hearing it with a bit more "edge". I think of this as the first step to Becoming the Edunator (ej-oo-nate-or) and "Teaching With an Attitude". For more on how teachers can Accept Responsibility for Student Learning, Click Here or visit Edunators.com.
Interested in Helping Your Faculty Become Edunators?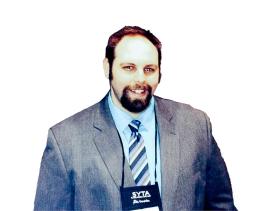 Mark is available for professional development in half-day or full day workshops in which he entertains and inspires as he shows teachers they have within them all they need to "Become the Edunator" and gurantee that in their classroom, "Not learning is NOT an option!"
Mark's "Focus on Learning" workshops are designed to model differentiation, formative assessment, reflection and standards referenced grading - virtually guranteeing that everybody can walk away with multiple new strategies by focusing your professional development on actual LEARNING! Teachers will learn the strategies because they'll participate in them from start to finish from the perspective of the student. From initial instruction, through assessment, re-teaching and enrichment teachers will experience the power of choice, reflection and clearly defined objectives in the learning process.
If all of that sounds like a bit too much for you and your staff, "traditional" presentations are available as well in a mostly lecture based or small-group format. Mark will work with you to determine the best course of action for your faculty's professional development.
If you would like to learn more about how Mark can help your faculty "put it all together" and use formative assessment, differentiated instruction, reflection and feedback to reteach, enrich and empower students - email him at markclements@edunators.com or send him a message on Twitter or Facebook. References available upon request.